The global auto industry has come a long way from traditional transportation solutions to a new set of versatile and convenient services with promising user prospects. While electric vehicles powered the last big revolution in the transportation sector, new-gen connected vehicles are feeding the next wave of intelligent mobility services that fuel EVs and connected aftermarket solutions.
Initiated with the goal to combat climate change through sustainable practices and cleaner energy, and flourished during the low-mobility months of COVID-pandemic, the concept of Battery-as-a-Service isn't necessarily new but here to stay. Astute Analytica predicts the global market size for BaaS to grow from $142.7 M in 2021 to over $1000 M in 2030, with a CAGR of 25.9%.
What is BaaS – Battery-as-a-Service?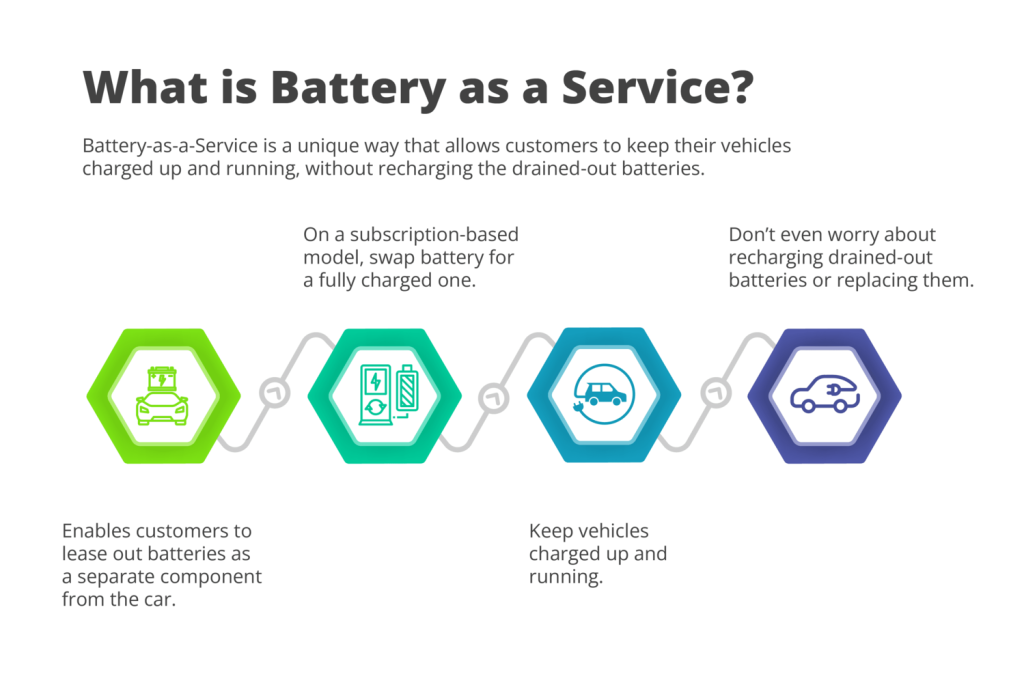 Battery-as-a-Service is a unique way that allows customers to keep their vehicles charged up and running, without having to worry about recharging drained-out batteries or replacing them. The concept enables customers to lease out batteries as a separate component from the car, on a subscription-based model, and swap it for a fully charged one as and when it depletes power.
The concept makes for a great first step, for both businesses and customers, toward sustainability. While battery-powered vehicles undoubtedly reduce fossil fuel consumption, the BaaS model further helps to offset carbon emissions, with solar-powered charge stations, shared mobility services, and more. As a result, the data-driven BaaS model adds potential for flexibility and scalability for businesses and fulfilling experiences for customers.
Data Connectivity in BaaS
The growing popularity of battery electric vehicles has established a high business potential for BaaS models. However, successful implementation would require ready access to connected vehicle data that'd support the identification of relevant battery swapping station sites and tracking of real-time EV movement.
Embedded data from connected vehicles makes for the perfect catalyst to drive said functions, in addition to automating site operations for common battery issues, monitoring battery drainage in real-time to send alerts, and educating drivers on best practices, based on the measurement of battery health and performance through data-based efficiency assessment.
What are the advantages of the Battery-as-a-Service Model?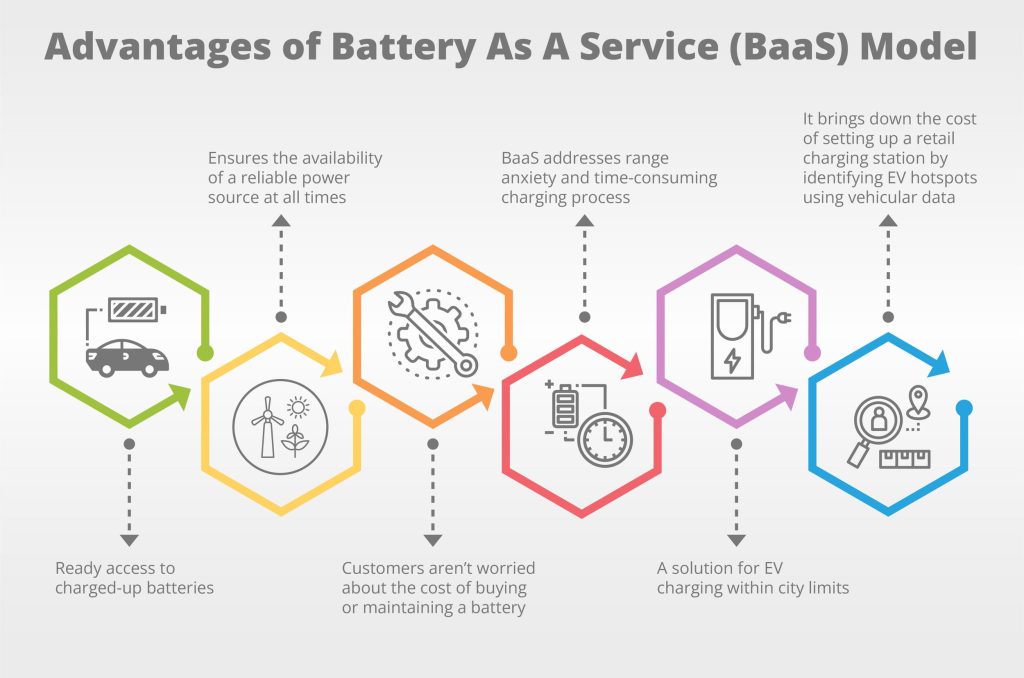 BaaS makes for a perfect model for those who are always on the go.
Ready access to charged-up batteries, from intelligently set up swapping stations, ensures the availability of a reliable power source at all times.
Customers aren't required to worry about the cost of buying or maintaining a battery.
BaaS addresses incessant EV issues such as range anxiety and time-consuming charging process.
Since the battery makes up for a considerable chink of the cost of an electric car (30-40%), the upfront buying costs go down.
BaaS provides a solution for EV charging within city limits, for homes that do not have access to plug-in charge points.
Car owners get the flexibility to choose from a variety of subscription plans, based on their dynamic usage trends, availability as well as driving behaviour.
The BaaS model also brings down the cost of setting up a retail charging station for EVs, and instead relies on vehicular data to identify EV hot spots.
The service can be further clubbed with benefits such as doorstep delivery or automated billing cycles, to add convenience while making sure that customers never go without a charge.
Uncover the Potential for Battery Connected Services with CEREBRUMX
CEREBRUMX empowers your efforts to develop new, exciting and convenient mobility services that aim to enhance customer experience. With our range of advanced data solutions, powered with embedded telematics and Machine Learning capabilities, get started to set up your Battery-as-a-Service model. Leverage our AI-powered Augmented Deep Learning Platform (ADLP) to unlock the true value of connected vehicle data from millions of connected vehicles in real-time, and convert it into rich, predictive insights that'll open the doors to intelligent battery services. Simply take advantage of our quick cloud integrations and APIs to do away with complex infrastructure and high costs.
When it comes to consumer's data privacy and security, CEREBRUMX believes in total transparency when dealing with sensitive data. To ensure complete trust and uninterrupted business operations, we enable you to give the power back to the customers by letting them the grant, revoke or edit consents for data transactions easily, with our white-label platform, CerebrumX Secure Consent.
For more information regarding connected vehicle data and the evolving ecosystem around it, Contact us or reach out to our experts.