Wondering what connected car data is? Connected cars in recent years have broken the norm, with supercharged abilities to communicate with road infrastructures as well as other vehicles to deliver safer and more effective journeys. While connected vehicle penetration has been significant in some countries, the scope for improvement in others is huge and apparently picking pace.
Forecasts show connectivity levels to increase in North America and Europe by 2030, with 60 % to 70% new vehicles sold to be connected. Another insight highlights that close to 95% of new vehicles sold globally will be connected by 2030, up from 50% today. These projections indicate that connected car data-based driving solutions will grow considerably in the near future, with the potential to transform how we commute.
What is connected car data?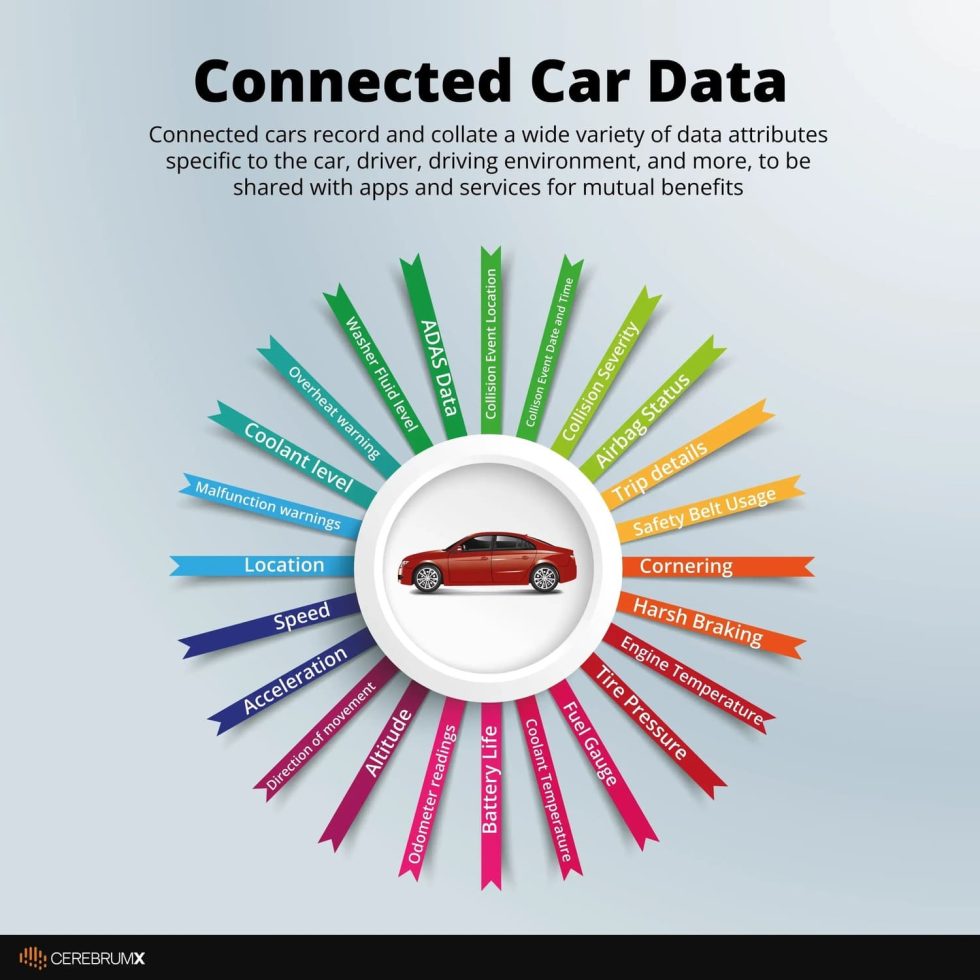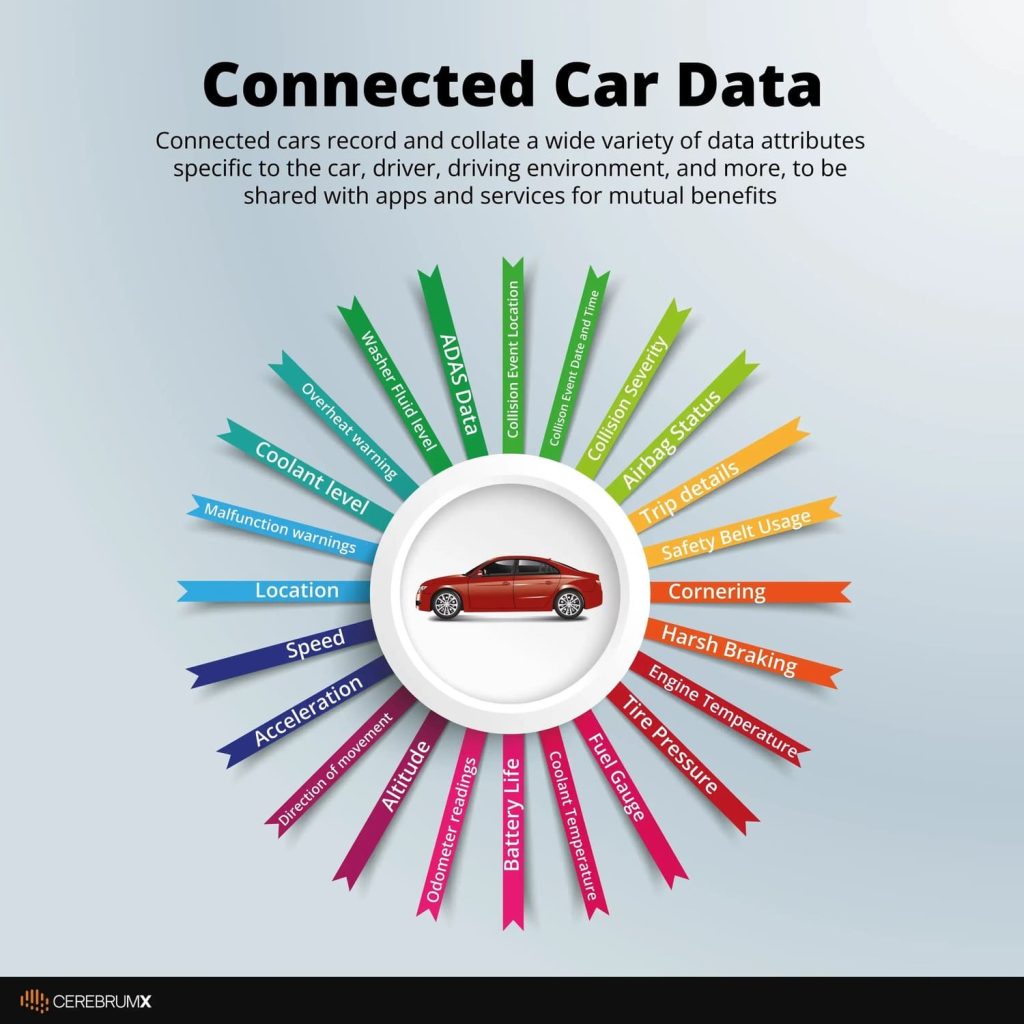 Connected cars record and collate a wide variety of data attributes specific to the car, driver, driving environment, and more, to be shared with apps and services for mutual benefits. For instance, everything from the vehicle's speed, acceleration, and braking to live location, engine status, tire pressure, battery health, and potential faults are recorded. This sensory data holds tremendous value to be extracted and, in a unit, is referred to as connected car data.
As modern cars evolve and develop the ability to connect to the internet, vehicle-to-vehicle and V2X communications are made possible to make car ownership more fulfilling and convenient.
How is Connected Car Data collected?
While there are a number of ways through which car data can be generated, truly rich datasets are achieved from embedded telematics. Multiple sensors embedded within the vehicle work in harmony with the vehicle's Electronic Control Units (ECUs), Controller Access Networks (CANs), and even infotainment systems to capture data relating to each and every aspect of the vehicle and its operating environment.
Typically, modern cars consist of more than 100 sensors that can yield up to 25 GB of connected car data a day. The rise in self-driving, electric and autonomous vehicles is further expected to stimulate an increase in the number of embedded vehicle sensors, generating piles of connected vehicle data and deepened insights.
Where is Connected Car Data collected from?
Much of the data sourced from the vehicle's onboard sensors is meaningless without a proper decryption model and thus requires further analysis to yield value or information. One way to deal with this situation is by transmitting this data to the cloud of the service provider or OEM to undergo data analysis but it includes time and cost considerations of its own. As a result, too much data is left behind inside the car, waiting to be treated and made usable.
What are the advantages of Connected Car Data analytics?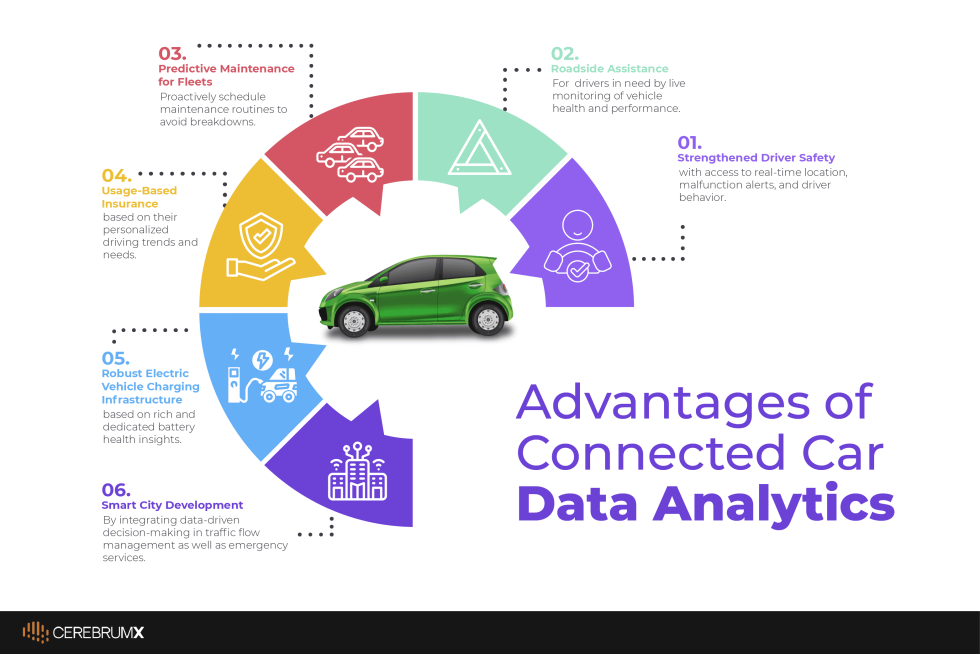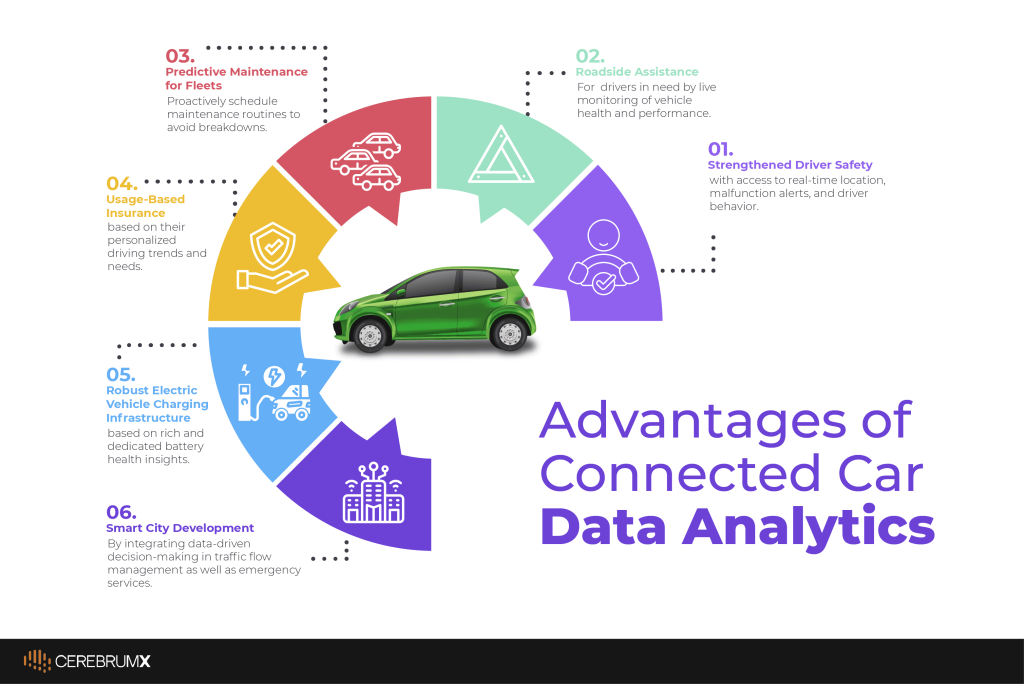 The demand for data-driven services in the automotive sector has witnessed a steep rise with the growth of the mobile economy and the monetization of connected car data. Today, the importance of accessing valuable data and using it to improve driving experiences holds true for industries spanning
By leveraging this connected car data, automotive service providers stand to enable unique and innovative use cases for the mass audience:
Strengthened driver safety with access to real-time location, malfunction alerts, and driver behavior.
Roadside assistance to drivers in need by live monitoring of vehicle health and performance.
Predictive maintenance for fleets to proactively schedule maintenance routines to avoid breakdowns.
Usage-based insurance for drivers based on their personalized driving trends and needs.
Robust electric vehicle charging infrastructure based on rich and dedicated battery health insights.
Smart city development by integrating data-driven decision-making in traffic flow management as well as emergency services.
And more….
What is connected car data monetization?
Connected car data monetization is the process of monetizing the software to ensure that software development is not hindered. Data monetization enables OEMs to focus on monetizing through the fleet's life cycle. It includes providing recurring revenues through a monthly subscription, providing premium connectivity, OTA upgrades, and much more.
What are the benefits of Connected Car Data monetization?
It helps build newer opportunities in the market
It aids increase the value to data and sizing up the market
it assists in maintaining a competitive advantage in the market
It  enables improving customer experience and building customer loyalty
End Your Search for a Credible Data Partner with CEREBRUMX
At CEREBRUMX, we are committed to assisting you in developing future-ready products that'll incentivize sustainable mobility solutions and safe driving experiences. Stay on top of the latest mobility trends and transform your mobility services with AI-powered data and insights. Our Augmented Deep Learning Platform (ADLP) will lead your business to success with reliable products and customer satisfaction achieved from our connected car data solutions. ADLP crunches real-time data from millions of connected vehicles and enriches it using advanced AI signals and data standardization processes to generate predictive insights with minimal supervision.
Our rich data sets and industry-leading analysis promise cost-friendly operations, endless innovation, and optimum business productivity. We adhere to global privacy regulations to maintain driver confidentiality and offer a white-label consent management platform, CerebrumX Secure Consent, that can be easily integrated within your brand's existing web/app architecture.
For more information regarding connected vehicle data and the evolving ecosystem around it, Contact us or reach out to our experts here.